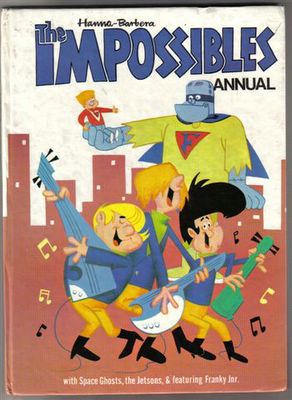 Well, I'm back from a fortnight in Devon where it fucking rained an awful lot. Managed to eat at least one pasty a day plus a great deal of fudge, bacon, cream teas - you name it, we fucking ate it.
Picked up this superb
The Impossibles
annual along with 150-odd books (watch
The List
for up and coming sales).
Does
anyone
else remember
The Impossibles
? I was beginning to think I had made the whole fucking thing up. Even the guy who sold it to me doesn't remember them - and he was a big
Hanna-Barbera
fan. I do remember a ground breaking combo in the late '70s called
The Fluid Men
, but I think they split up due to chemical differences.
Once I dig through my stock I'll post some cool book covers by
Moorcock
,
Hassel
,
Kessler
, plus a rather groovy
Fiona Richmond
novel.